Kevin Conner's popular "Key of Knowledge" seminar has equipped 100s of people in how to study, interpret, and apply the Bible for themselves. In this course, you learn helpful methods and principles of Bible research and interpretation.
Both courses include 13 hours of insightful teaching by Kevin Conner, a complimentary downloadable copy of all of the textbooks and study guides, and an online guided study program based on the study guides.
Each course is discounted for the month of July 2021. Register now for immediate and lifetime access!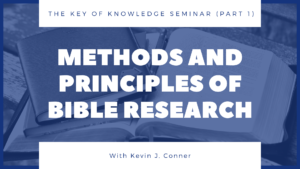 Many Christians today listen to sermons from various preachers but don't know how to study and interpret the Bible for themselves. Numerous students graduate from various theological colleges today but many fail to have the necessary "keys" and "how to's" for their own personal Bible study.
This course presents some of the major "Tools For Research" plus some of the major "Methods of Research". They include Word, Character, Place, Textual, Topical, Passage and Book Studies. This course especially follows a two-fold approach of "teaching the keys" (instruction) and "using the keys" (practical workshop by the student). Here the student finds the joy of discovery for themselves, each using and developing these methods according to their distinctive calling in God and ministry vocation. In Part 2, you will learn principles for properly interpreting and applying the Bible for yourself. The course is designed in such a way that a diligent student may set their own pace as they work through the text assignments.
This 2-part course contains over 13 hours of video teaching, a self-directed study guide, additional notes, and an online step-by-step study guide with assignments for applying the teaching. All the content of Kevin Conner's book "Methods and Principles of Bible Research" (over 200 pages) and "Interpreting the Scriptures" (200 pages) are also included in downloadable PDF format for the use of the student or small group taking the course.