This online video course is Part 1 of Kevin Conner's popular "Key of Knowledge" seminar which has equipped hundreds of people in how to study, interpret, and apply the Bible for themselves. In this course, you will learn methods and principles of Bible research.
Part 2 of the "Key of Knowledge" seminar is called Interpreting the Bible and it is also now available as an online course that can be taken after Part 1 or simultaneously.
Many Christians today listen to sermons from various preachers but don't know how to study and interpret the Bible for themselves. Numerous students graduate from various theological colleges today but many fail to have the necessary "keys" and "how to's" for their own personal Bible study.
This course presents some of the major "Tools For Research" plus some of the major "Methods of Research". They include Word, Character, Place, Textual, Topical, Passage and Book Studies. This course especially follows a two-fold approach of "teaching the keys" (instruction) and "using the keys" (practical workshop by the student). Here the student finds the joy of discovery for themselves, each using and developing these methods according to their distinctive calling in God and ministry vocation. The course is designed in such a way that a diligent student may set their own pace as they work through the text assignments.
This course contains over 6 hours of video teaching, a self-directed study guide, additional notes, and an online step-by-step study guide with assignments for applying the teaching. All the content of Kevin Conner's book "Methods and Principles of Bible Research" (over 200 pages) is also included in downloadable PDF format for the use of the student or small group taking the course.
Course Instructor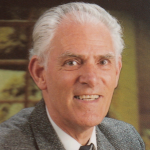 Kevin John Conner (1927-2019) is recognized internationally as a teaching-apostle after many years in both church and Bible College ministry. He has written over sixty textbooks used by ministers and students throughout the world. He has been in great demand as a teacher and travelled extensively during his lifetime from his home in Melbourne, Australia. [Read more About Kevin]
Recommendations
"Every sincere Bible scholar realizes that it is absolutely essential to have biblical keys and principles which will unlock the Scripture in order to bring forth the wisdom and knowledge that God has placed within the pages of his Word. I am grateful for such a course as this that clearly lays out methods of study and keys to interpreting the Scriptures. I believe that those who are interested in knowing the secrets of God which are locked up in his Word will greatly benefit from it. We are indebted to Kevin Conner for the countless hours spent in preparing this course for all those who hunger and thirst after an opened understanding of the Sacred Word, the Holy Bible." Rev. K.R. (Dick) Iverson Founding Pastor of City Bible Church (formerly Bible Temple) and President of Portland Bible College

"I find Kevin Conner insightful …" Bishop T.D. Jakes

"Kevin Conner's book 'The Foundation of Christian Doctrine' is a landmark work, benefitting us all with a solid view of the theology of renewal as it unites with the historic truths of God's Word always embraced by the living church." Jack Hayford
About the Key of Knowledge Seminar
Jesus charged the Scribes of his day that they had "taken away the key of knowledge" (Luke 11:52). The Scribes were the official interpreters of the sacred Scriptures in the time of Christ but they had robbed the people of the key of knowledge, that key which would open the door to the truths of God's kingdom. They themselves entered not into the Kingdom and they hindered and forbade those who wanted to enter in.
Today there is a similar scene. The people of God are often robbed of the key of knowledge. Great responsibility rests on ministers of the Gospel. It is their responsibility to use the "key of knowledge" and open the door into the truths of God, and, not only enter in themselves but allow their congregations to enter in also.
There are many good and great Bible Colleges and Theological Seminaries in the USA, the United Kingdom and Australasia where those who sense the call of God on their lives may attend and from which they can graduate. Curriculums generally cover major subjects such as Theology, Ecclesiology, Church History, Pneumatology, Missions and Eschatology. Most major on Bible, covering the Pentateuch, Historical Books, Major and Minor Prophets, Poetical Books as well as the Synoptic Gospels, Acts, Johnannine, Pauline and the Hebrew Writings.
However, after many years of involvement in Bible Colleges, both in Australasia and America (i.e., Portland Bible College), there appears to be two particular subjects which need to be taught, or if taught, need to be more fully expanded. These subjects are:
Principles of Biblical Research, and
Principles of Interpreting the Scriptures, or Hermeneutics.
The word "key" simply means "an opener"'. It is an instrument that serves to lock or unlock doors. It opens or closes doors. Naturally speaking, each key has a specific design and purpose. One must have the right key in the right door or else things remain closed off. One cannot force a wrong key to open a lock. There may be nothing wrong with the key itself. It may simply be a right key in a wrong lock or a wrong key in the right door. Both keys and locks must match in order to open things closed or sealed.
So it is with the Word of God. There are specific "keys"' of biblical Interpretation and biblical Research which work together and unlock the doors of Scripture revelation and illumination, letting the believer enter into vast realms of truth in the Word of God, the Holy Bible.
"The Key of Knowledge" Seminar helps to provide these keys to earnest Bible students. It is not only the joy of discovering the keys but the joy of using the keys of discovery of Divine truth within the sacred pages of the Scriptures that brings spiritual enlargement and fulfilment to the hungry searcher.
May this course be challenging, liberating and enriching to all who desire to excel in the communication of the Divine Word.
Kevin J. Conner
NOTE: This course was professionally video-taped in 1991, so the technology reflects that era but the quality of the teaching is excellent.
SPECIAL OFFER: Watch the first video lesson, 'The Challenge to Study', for FREE below to see if this course is for you … before purchasing.
Course Cost
Buy Now
This one-time purchase of AUD $90.00 gives you lifetime access to the course. 
Payment Plan
per month for 4 total payments
Make 4 payments of $25.00 AUD each for four consecutive months ($100 total) for lifetime access to this course. The July 2021 sale is for 4 payments of $20.00 AUD for a total of $80.00.
Introduction to Research
Tools for Research
Methods of Research
Conclusion