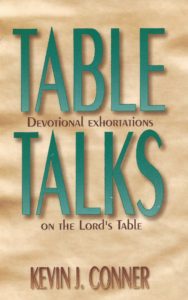 Table Talks is a unique booklet. It provides fifty-two devotional exhortations on the Lord's Table, one for each week of the year.
Many ministers have difficulty in finding some exhortation on the Communion in order to maintain the life and freshness of this Divinely ordained and appointed ordinance. This is especially for Churches and congregations which commemorate the Lord's Table each Lord's Day of the year.
The beauty of this booklet is, that, although each of the 'Table Talks' is complete in themselves, allowing five minutes or so as they are, they can be developed into fuller or more complete messages should a minister desire.
Because there is very little material available on this ordinance, the minister and reader should find great delight in the booklet. Besides this, they should also find that the spirit of wisdom, revelation, knowledge, and understanding of the Lord's Table should increase. They will gain insights into the keeping of this ordinance as never before. As far as is known, there is no booklet quite like this. It is a must for every minister's library!
This title is available from WORD Australia and from Amazon in paperback and eBook formats, as well as an immediate PDF download from the shop.