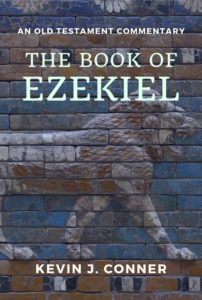 The prophet Ezekiel lived in the ancient city of Babylon during a critical time in Israel's history. This newly released Old Testament commentary by Kevin Conner contains many seed thoughts and insights from this intriguing book. It will be of assistance to pastors, teachers and Bible students everywhere.
Available in paperback format from Amazon, as an immediate PDF download from the SHOP and as an eBook for Kindle from Amazon.
NOTE: Those living in Australia can order the paperback edition from Amazon Australia.
Be sure to listen to Kevin Conner's teaching on The Book of Ezekiel on his teaching podcast. This 8 part series will begin with weekly releases on 11th August 2020.