Kevin Conner is known for his in-depth teaching on the Bible, including a focus on the Old Testament and parts of the sacred text that not many people talk about. This includes his Habitation Trilogy – The Tabernacle of Moses, The Tabernacle of David and the Temple of Solomon.
Now for the first time, these best-selling books are available in eBook format via Kindle at Amazon. Paperback versions can still be purchased from City Christian Publishing in the USA and from WORD books in Australia.
Here is some more detail: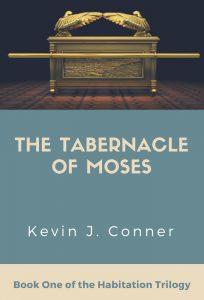 The Tabernacle of Moses  
The Tabernacle of Moses is the first in a trilogy of books dealing with the intriguing topic of the dwelling place of God on earth. In writing this comprehensive volume, the author has combined a lifetime of research and thought with his God-given ability to make the Bible come alive. This book is a thorough and detailed study into the spiritual significance of every facet of Old Testament tabernacle worship, and it sets forth the riches of redemption's story as typified in its furniture and construction. Its pages of instruction are filled with charts and lucid illustrations which enhance the serious student's overview of the material dealt with. This book is ideal for use in adult bible classes and college classrooms.
The Tabernacle of David
The Tabernacle of David is the second work in Conner's trilogy concerning the three major dwelling places of God in the Old Testament. This text answers many vital questions concerning the tabernacle in the Old Testament and its significance to New Testament revelation. The Tabernacle of David is a devotional, typical, theological and practical book and clearly shows the vast differences between the Old Covenant and the New Covenant methods of worship. It presents an exciting and stimulating challenge to the believer who is hungry to learn more about the move of the Holy Spirit today.
The Temple of Solomon
The Temple of Solomon completes the trilogy dealing with the dwelling places of God in the Old Testament. Though this dwelling place was of a temporary nature, a timeless pattern was initiated. This study yields rich and precious truths concerning Christ and His church. These truths are tied into the New Testament as the church is presented as the "Temple of God."