In November 2017, Kevin Conner went from another visit to the Knox Private hospital to the Victorian Rehabilitation Centre in Glen Waverley. After a few weeks there, he thought he would then go back home, but it was not to be. He needed permanent care so was moved to the Villa Maria Aged Care facility in Wantirna South on 5th December 2017.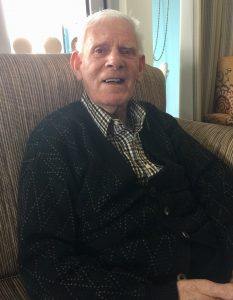 This was hard for his wife, Rene, for the family, and for Kevin himself. He had grown up in homes and now he was in another home, cared for by others.
Kevin's son, Mark Conner, took this photo of his dad in one of his first days at Villa Maria … then went home and wrote this poem.
Nothing to do.
 Just waiting.
 In a chair.

 Can't read.
 Can hardly speak.
 Only stare.
 Just be there.

 Wanting to stay.
 Better to go?
 It can be confusing.
 Near the end.

 No more achievements.
 No more hills to climb.
 No crowds now.
 Only family and friends.

 Out of the limelight.
 Into the shadows.
 An unknown face.
 In an aged care home.

 Life almost over.
 What did it all mean?
 Did his best.
 For God and church.

 Notes cast on the waters.
 Spread far and wide.
 Bread for the hungry.
 Seed for the wise.

 Followed the call.
 Faithful to Him.
 Stayed the course.
 Finished the race.

 Love is all we have.
 Near the end.
 Love is all we need.
 At the end.