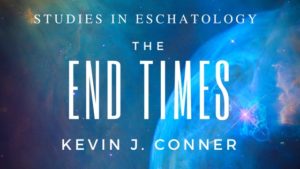 In every generation, there is talk about the "end times", but especially when global issues intensify. The Bible has much to say about the "last days", the "signs of the times", and how we should live during times of pressure. Kevin Conner has written a number of books related to these topics. Today we will highlight two of them:
The Book of Revelation – An Exposition.
This book is Kevin Conner's 'masterpiece' and is the culmination a life time of study in the Scriptures. An epic, verse by verse study, this 667 page exposition will keep the reader intrigued and engaged for months and years to come. Available in hardback format from WORD and now in a new 3 volume eBook format from Amazon (NEW).
Interpreting the Book of Revelation: Principles for Understanding End Times Events
This important book describes the fundamental principles for unlocking the mysteries of the Book of Revelation. Not an exposition in itself, the text purposely avoids eschatological controversy by focussing on teaching the reader how to apply proper hermeneutical principles. Because hermeneutics is both a science of knowing the rules and an art of application, the reader is given relevant principles of interpretation, then challenged to accurately apply them. Self study assignments are provided to assist in this learning process.
Available for purchase in paperback format from WORD in Australia, City Christian Publishing in the USA and now in eBook format via Amazon (NEW).
The Christian Millennium: Studies in Eschatalogical Millennial Views
For the serious student of end-time events, and the varying views of millennialism, Kevin Conner has provided an alternative view on a number of points of controversy. Most students of biblical prophecy will have heard of post-millennial, a-millennial, historic pre-millennial schools of thought, along with futurist and dispensationalist pre-millennarians. But in 'Christian Millennialism' Kevin presents an alternative view for the reader's consideration.
Available for purchase in paperback format from
WORD
in Australia and now in
eBook format via Amazon
 (
NEW
).
The Seventy Weeks Prophecy – An Exposition of Daniel 9.
This unique book is an exposition of Daniel 9, which is one of the most marvellous and amazing prophecies of all Bible prophecies. This prophecy is like a seed prophecy, and each of its clauses, when watered by the Spirit and Word of God is like a tree in itself, rich in blossoms of truth