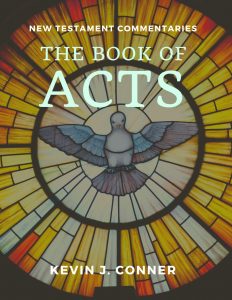 The Book of Acts, as contained in the New Testament and written by Luke, tells the inspiring story of the church of Jesus Christ – from the outpouring of the Holy Spirit on the Day of Pentecost in Jerusalem through to Paul's missionary journeys and church planting initiatives in the outer regions of the Roman Empire.
Kevin Conner loved this New Testament book and at this time we are releasing a 24-part audio teaching series on his podcast on The Book of Acts. You will find this series on Podbean, Apple podcasts, Google podcasts, and Spotify. Visit the audio page for full details.
Kevin also has an insightful verse-by-verse commentary on the Book of Acts providing a fresh approach to this key book of the New Testament, as well as showing its relevance for today as a pattern book for the operation of the Holy Spirit through the Church. This commentary is available in paperback as well as eBook formats. It is also available in an international hardback edition. Check your local Amazon region for ordering details. Please note that although the cover artwork may differ, the internal content is the same in each edition.
Up until 31st January 2023, Kevin's commentary on the book of Acts is available for 50% off as an immediate PDF download from the SHOP.