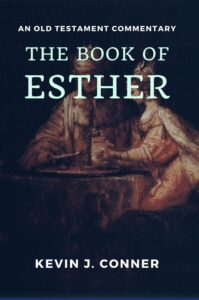 The book of Esther has interested and intrigued people for centuries. There is no direct mention of God in this biblical book, yet the hand of Providence is clearly at work at this time in history. The courageous actions of a young girl named Esther affect the destiny of the Jewish people who were living amidst the risks and threats of the great Persian Empire in the fifth century before Christ.
In these previously unpublished notes, we glean from Kevin Conner's reflections and insights on this unique book, including his thoughts on how this ancient story is typical of the work of Christ and his church.
As always, the author's approach is one of preparing 'seed for the sower and bread for the eater' (2 Corinthians 9:10). You will find food for your soul here but also many seed thoughts and ideas that can be further developed into helpful truths and insights about God and his purposes for you, the church, and God's world.
This newly released Old Testament commentary is available as an immediate PDF download from the SHOP or in paperback and eBook formats from Amazon, whether that be in the USA, Australia, the United Kingdom, Canada, Brazil, or Germany.