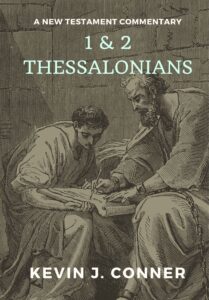 Paul's letters to the church he founded at Thessonalica are some of the earliest writings of the New Testament. These letters were written to a congregation who Paul had deep affection for and in which no major problems had arisen, at least in contrast to what we find the churches of Corinth and Galatia. A focus of Paul's missionary strategy was to plant churches in major urban centres of the Roman Empire that would then impact the local region. The church at Thessalonica is one such example.
One of the questions asked by the church at Thessalonica was about those who had died and the return of Jesus. Because of this, these letters are sometimes referred to as 'The Second Coming Epistles'. Be sure to listen to Kevin Conner's 15-part teaching series on this subject on his FREE podcast. It was released in April this year.
In this commentary of previously unpublished notes, we have Kevin Conner's unique approach to gleaning insights and teachings from these letters written by the apostle Paul. There are many applications for our lives today, as followers of Christ, and as local churches carrying out God's cause in the world.
This book is available as an immediate PDF download from the website SHOP or from Amazon in paperback or Kindle formats. Visit your regional Amazon website to order, whether that be Australia, the USA, the United Kingdom, India, Brazil, or Canada.