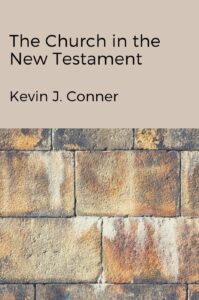 A number of years ago I was attending a church leader's conference in Chicago. A friend of mine pointed to a man across the room and said that I should meet him. As it turned out, he had planted a church in a remote part of Africa years earlier and had seen it grow to over 10,000 people. He had two books that helped him – the Bible and a book on 'The Church in the New Testament' by some man named Kevin Conner. What a joy to meet this pastor and tell him about my dad and then to come back home and encourage my dad with this story. You never know the power of a book and how God can use it to build his church and expand his kingdom anywhere in the world.
Next to The Foundation of Christian Doctrine, my dad's book on The Church in the New Testament is one of his best-selling and most influential books. This book contains a comprehensive study of God's eternal plan for the Church. It is an encyclopedic reference work designed to give a comprehensive biblical understanding of the universal and local New Testament Church.
The text has several unique features about it, these dealing with The Church and The Kingdom, The Church in the Old Testament, and the Church as the New Ethnic. The progressive revelation of the Church in the New Testament as in the Gospels, then the Acts and the Epistles is seen to be "first the blade, then the ear, then the full corn in the ear." Church Government is also dealt with, along with the Ascension-Gift Ministries, Elders and Deacons, The Ministry of Women in the Bible, Church Discipline, Stewardship, and the Purpose of the Church's existence, as well as other helpful features.
Whether your local church is small or large, traditional or contemporary, urban or rural, independent or denominational, in-person or online, this book about God's purposes and intentions for the church will be of assistance and inspiration to you.
This excellent book is available in paperback format from WORD Australia, as an immediate PDF download from the shop (50% off for August 2022), and from Amazon in paperback, hardback (NEW), and Kindle eBook formats (visit your local Amazon region to order).
Mark Conner