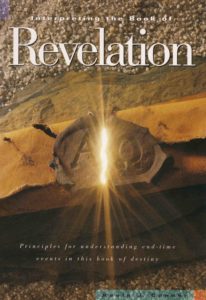 Kevin Conner's teaching podcast has recently commenced a 24-part series on 'Interpreting the Book of Revelation'. These lectures were given at Tung Ling Bible College in Singapore back in 2002. This in-depth teaching by Kevin on one of the Bible's most difficult books to interpret is not to be missed. Visit the Audio page for podcast details.
NEWS: The 'Kevin Conner Teaches' podcast has recently been added to Google Podcasts.
Be sure to get a copy of the textbook by the same title, available from Amazon in your region (see below), in hardback and Kindle formats, or as an immediate PDF download from the SHOP (50% off for the month of July 2022). Also available from WORD Books in Australia (spiral spine binding).
In this insightful book, Kevin Conner describes the fundamental principles for unlocking the mysteries of the Book of Revelation. Not an exposition in itself, the text purposely avoids eschatological controversy by focussing on teaching the reader how to apply proper hermeneutical principles. Because hermeneutics is both a science of knowing the rules and an art of application, the reader is given relevant principles of interpretation, then challenged to accurately apply them. Self-study assignments are provided to assist in this learning process.