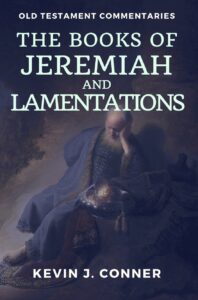 The prophet Jeremiah was one of the most significant of ancient Israel's major prophets. This NEW commentary of previously unpublished material contains Kevin Conner's helpful historical background, chapter outlines, seed thoughts, thematic insights, character studies, prophetic types, and comparative charts from these writings by the prophet Jeremiah. This book will be of assistance to pastors, teachers, and Bible students everywhere.
Available as an immediate PDF download (digital book) from the SHOP, or as a paperback book from Amazon, or in eBook (for Kindle) format also from Amazon.
NOTE: Those living in Australia will need to purchase the paperback edition of this book from the Amazon Australia site.
EXTRA NEWS: Kevin Conner's commentary on The Book of Isaiah is available now and his commentary on The Minor Prophets will be available by the end of the year.