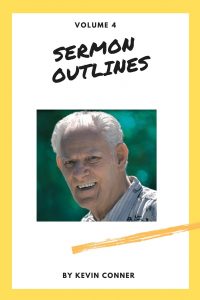 During Kevin Conner's lifetime, he gave many sermons and messages to various audiences and contexts including local church congregations, minister's conferences, training seminars, and small groups. Today we release a fourth volume of 20 of his sermon outlines, previously unpublished. They are full of insightful ideas for teaching and preaching God's Word, whether for public speakers or small group leaders. They are also a terrific tool for one's personal Bible study and devotional life.
VOLUME 4 of Kevin's sermon outlines includes the following titles: The Second Coming of Christ, A Tale of Three Women, The Sevenfold Blessing of the House of God, The Curse, the Cause, and the Cure, Building a Spiritual Atmosphere, The Prayer Jesus Prayed, Enoch – A Character Study, King Uzziah – A Character Study, King Hezekiah – A Character Study, Honour the Widows(ers), The Spirit of Elijah – 10 Tests for Elisha, The Spirit of Tobiah in the House of God, The Seven Disciplines of a Leader, The Feast of Unleavened Bread, The Feast Sheaf of Firstfruits, Measuring Up, Measure the Altar, Measure the Worshippers, Measure Not the Outer Court, and The Present Truth.
This new book release is available from Amazon in your region, in paperback and ebook formats, and as an immediate PDF download from the website SHOP.