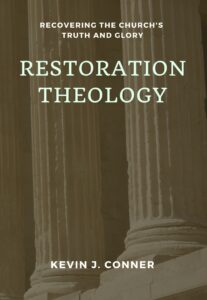 The Early Church was birthed in a blaze of glory and truth. History shows the tragic decline from that glory into what has been called 'The Dark Ages of Church History'. However, since the period of the Reformation, God has been moving by his Spirit to restore the Church to its early glory and greater, and to recover the truths that have been lost.
Kevin Conner's best-selling book, 'Restoration Theology', presents a powerful and comprehensive explanation of this restoration of the church that Jesus is building. This 300+ page book includes topics such as: the prophets and restoration, principles of restoration in creation, promises to the nation of Israel, and a detailed exploration of the restoration the church throughout history right up to today.
Be sure to listen to the latest teaching podcast by Kevin which is an 8-part series on restoration theology. It is available on Podbean, Spotify, or Apple podcasts. Simply search for 'Kevin Conner Teaches'.
To order the book, visit WORD books in Australia or Amazon where you can purchase it in paperback, hardback (new!), or eBook formats.