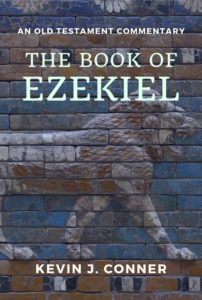 Kevin Conner loved the Bible. He read it, studied it, memorised it, and taught it as often as there was opportunity. He enjoyed digging beneath the surface of a text as well as discovering, then following the many themes thoughout the various books of the Bible. In due course, he became recognised as a leading Bible teacher within the wider church world, known for his insights and ability to unpack the meaning of God's Word.
Before passing away at the age of 92, in February 2019, Kevin had written and published over 60 books. However, many of his personal Bible study notes had yet to be published. The book of Ezekiel is one such commentary.
The prophet Ezekiel lived in the ancient city of Babylon during a critical time in Israel's history. This newly released Old Testament commentary contains many seed thoughts and insights from this intriguing book. It will be of assistance to pastors, teachers and Bible students everywhere.
May this book be an encouragement to you in your own journey of faith and your ministry to others.
Available in paperback format from Amazon, as an immediate PDF download from the SHOP, and as an eBook for Kindle from Amazon. NOTE: FOR Australian residents, the paperback version is not available in Australia. However, it can be ordered from Amazon USA.
Be sure to listen to Kevin Conner's teaching on The Book of Ezekiel on his teaching podcast. This 8 part series will began with weekly releases on 11th August 2020.